About week ago, I was standing outside a green gate at Araneta Coliseum waiting to meet David Archuleta.
It all started when I was waiting for this website to have their Harry Potter promo around 3 weeks ago. I kept checking everyday but they haven't posted anything yet. Then, I saw this promo for David's concert here in Manila. I wasn't that much of a fan but I did like a couple of his songs. I've also seen him perform live when he and David Cook came here 2 years ago. I thought, what the heck. So I joined. The contest question was simple enough.
July 16 came. As I usually do, I checked my email right after I arrive here in the office. 'Lo and behold, an email from the website saying that I won 2 VIP tickets for David's concert, a meet and greet session, and a goodie bag. I was really shocked. I wasn't expecting to win something that big. I won movie tickets before but they were just movie tickets. These are VIP seats PLUS a meet and greet session.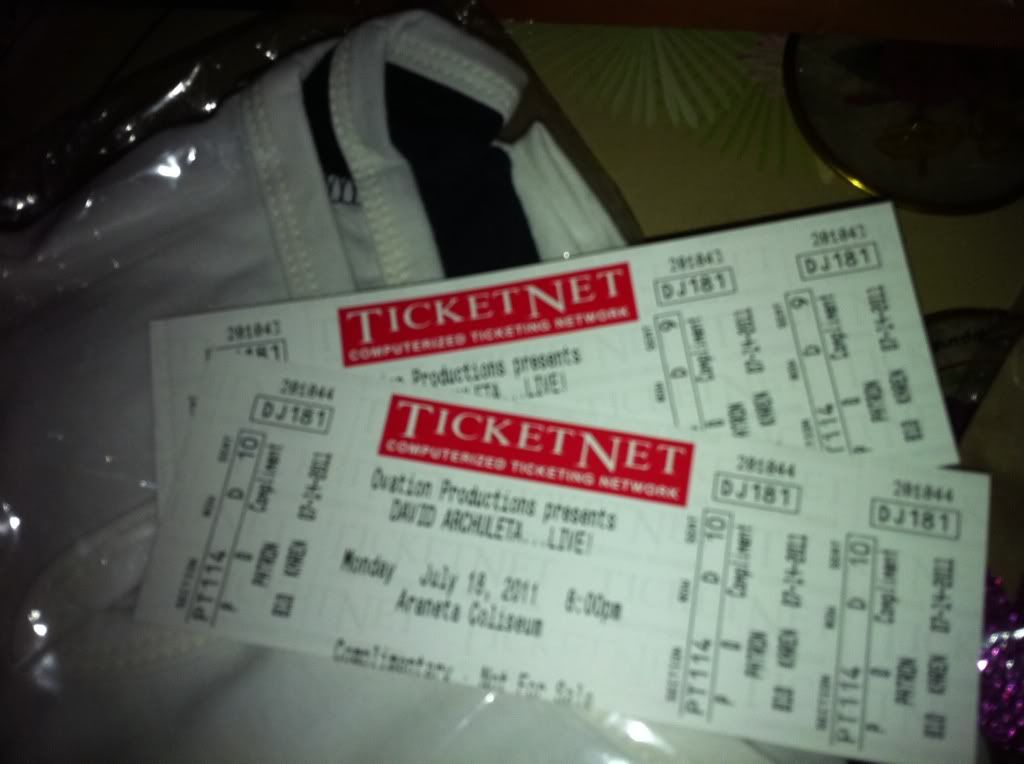 After being disoriented for a couple of minutes, I promptly posted on Facebook and Twitter, looking for someone who wants the other ticket. I wanted to bring a real fan with me. There was one – a high school classmate, but he couldn't come because he's in med school and was really busy. No other takers after a few hours so I took my other friend who also entered that contest but didn't win.
We were asked to wait for the organizers outside a green gate for the meet and greet. They told us to be there at 5PM sharp. We were there. We waited until 7:30PM. Seriously. I'd complain, but I still feel very very blessed for the tickets. Even if we only had like, 2 minutes MAX with David for the meet and greet (we were herded into a room like cattle towards David who was standing on a platform, looking very tired, and after a couple snapshots, was immediately asked to leave to accommodate the next batch – there were 10), I am still very very happy about it. And boy, did that kid make me a fan (not a fangirl – there's a difference). He sounds so much more amazing live. His recorded albums do not do his voice justice.
My friend and I had a great time. Still, I'm hoping to win those Harry Potter gift items.
My friend and I got a few videos. Will post them later. :)