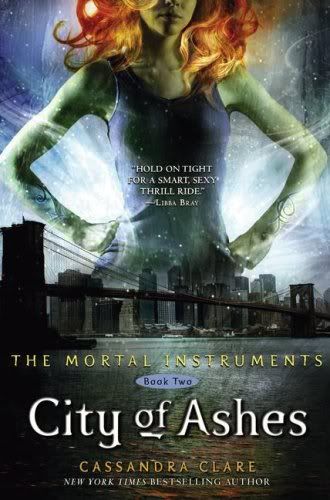 Summary:
After discovering heart-wrenchingly hopeless blood ties, Clary did her best to go on with her life. Still trying desperately to save her mother, she also had to deal with forbidden feelings and their effects on the people around her as well as her actions. Jace, on the other hand, was barely surviving an internal struggle about blood, family, love, and his true self.
Just as Clary was getting used to the crazy world she recently found out she belonged to, the Shadow world is rapidly falling into disarray. Valentine again unleashed his wrath and gained another Mortal Instrument, which led Jace and the Lightwoods to realize what he's up to.
City of Ashes is also an action-packed book like the first one but delves deeper into the psyches of the characters. It shows the readers their motivations for their actions, making them much more relatable and sympathetic.
Have you read City of Bones (Mortal Instruments #1)? If not, head on to my official book blog, iStepani's Books, for the summary and review. :)
iStep's review:
City of Ashes, for me, is that middle part that you want to get over with as fast as you can so you can go to the last and most exciting part. This, in no way, means that it's a bad book. It's just that I'm really excited about going to the Glass City in the third book and of course, the epic showdown. Anyway…
I will admit that I find the Mortal Instruments books rather predictable, but even so, the fruition of my theories didn't disappoint. This book has a lot of moments that I really like, some of which caught me off guard.  Also, since this book deals more with the feelings and thoughts of the characters, it's interesting to finally see what's underneath Jace's almost-perfect exterior. It was effective in the way that it actually made me a bit uncomfortable when I'm reading about Clary's supposedly taboo feelings. The insight into the characters' minds made them rounder and more exciting to read about.
I have a special crush on Alec, even though it doesn't make sense. :) Read the books and find out why.
If you're a fan of battles and heavy action sequences (which I am), you will definitely be satisfied. Just work your imagination and you'll be at the edge of your seat several times throughout the book. There's also a nice, magical adventure there. A tiny scene that made me smile was when Clary and Jace entered a diner and overheard a couple of creatures arguing about who would win a duel: Albus Dumbledore or Magnus Bane (the series' warlock)? Lol.
City of Ashes answers some questions from the first book but ignites a whole lot more in turn. It's definitely not a filler book.
For more book reviews, head on to my official book blog, iStepani's Books.