Only a little over an hour left of 2011 here in the Philippines. While waiting for the whole world to start exploding, I'd like to share my annual uber-shallow post of the Top 10 Guys I think are supermegafoxyHOT (yeah, that's a clue right there ;]) for this year.
This list is composed of celebrities local and international, including five "special mentions". I don't have legit qualifications where I base my ratings from. I could include talent and attractiveness to one but not the other. Basically, it's all about how much I like them. Some won't even make sense. Lol. You might agree, you might not, but it's my list. :)
So without further ado, let me usher in the last year in the Mayan calendar with the following list!
Note: I don't own any of the pictures featured so thanks to whomever the rightful owners are. 
10. Kit Harington
He's a newcomer to TV. He plays Jon Snow in Game of Thrones. He shows great potential. He is oh so cute!!! I read the book after seeing the TV series and I think he did the character justice. Looking forward to the next season and more projects from this guy!
9. Gerard Butler
My Gerry. This guy's been the #1 on my list for the past couple of years. I mean, how manlier can anyone get? He has a nice smile and his accent is just to die for. And his singing voice is so rockstar! I know that the movie version of Phantom of the Opera is supposed to be crap but Gerry's performance made me feel for the Phantom. I seldom cry at movies and this one can make me use up a roll of tissue whenever I watch it. I know that Mr. Butler has made some really bad romantic comedies, but hey, he's hot enough to justify the ticket price. Lol. I love you, Ger, but I'm sorry you dropped to the near-bottom of the list. Don't ask me why because I don't know either. I guess I just need to see something more from him. Machine Gun Preacher is showing soon so I bet that'd bump him up a couple of notches. :)
8. Simon Baker
I first saw him a few years ago in a random movie on HBO and I thought he was handsome in a not-so-usual way. Then, I saw him in Land of the Dead and thought, "Why is this guy the lead again? " It was a zombie movie and he looked too polished and refined to be there. Didn't know he was the same guy. Then came The Mentalist and his character there is just awesome, like a less violent but more psychotic Gregory House. He got me curious about him and I searched for all his other movies. He's a pretty decent actor. A pity they let him cover his marvelous Australian accent. Oh, and did I mention that when he smiles, it's like the whole world lights up and smiles with him?
7.  Chris Evans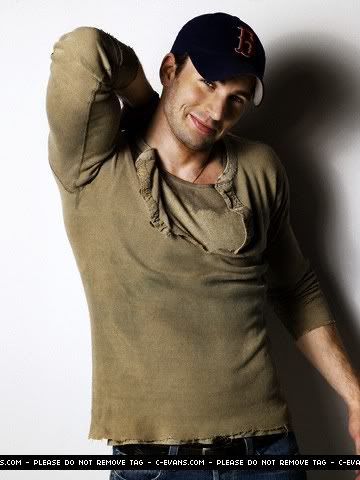 First superhero on the list! I kind of support the "one superhero character per actor please" movement but no, I won't complain about him getting the Captain America gig. I may not have read the comics, but I think he handled the character well. It was a pretty fun movie for a superhero flick. And during that scene when he emerged from the tube thing all tall and extra buff, I bet all the girls had the same reaction as Peggy Carter when she saw the abs. If you don't know what I'm talking about, go see the movie. I normally don't like pretty guys (and I consider him one) but he just looks so darn sweet when he smiles.
6. Ian Somerhalder
The eyes on this guy… I actually do not like looking at his eyes because they scare me. They're too… hypnotic, that sometimes I feel like he could actually compel me through the screen. Ian Somerhalder is on this list because his performance as Damon Salvatore is just perfect. He's like the vampire version of Dean Winchester – incredibly sexy and smart-ass with all the vulnerability trapped deep down inside. I just hope he doesn't become Dean season 4 onwards. That's just plain hopeless and tortured, but still kick ass. Ian is also very smart, eloquent, and cares a lot about the environment and people (that's why he has a foundation).
5. Paul Wesley
Actually, it's not Paul Wesley per se but Stefan Salvatore that I find hot. He turned his humanity off and became bad ass! He is so much sexier when he's all callous and unfeeling. The brooding, emotional-and-trying-to-hide-it thing got old last season. But I don't want him to be totally emotion-free. Bromance, after all, is a very strong connection. ;) But of course, I commend Paul the actor for playing this character splendidly. Why did he score higher than the other Salvatore? Well, I don't know either. He's just more my type, that's all.
4. Michael Trevino and Taylor Kinney 
I just found out a week ago that Michael is the new model for a huge local clothing brand. I can't believe no one made a fuss about his gigantic billboard along one of the busiest roads in this city! I mean, people made a HUGE deal about Ed Westwick being a model for an equally popular local clothing company. I get that. He's cute and he's Chuck Bass. But Michael Trevino is freakin' Tyler Lockwood! He plays a real (not just a shapeshifter!) werewolf in The Vampire Diaries. True, his character needs a little more ooomph to get him to the Chuck Bass level but man, is he hot! He also has a gorgeous smile.
On the same spot is the actor who plays his uncle Mason Lockwood, who's another werewolf, Taylor Kinner. His stint in TVD was brief but his hotness had an impact. Seriously, are fab abs a prerequisite to being a werewolf?
3. Jared Padalecki and Jensen Ackles
These two are here as one because, well, what's Dean if Sam isn't there, right? I mean, they made separate horror movies and those were just… meh. So that means they should always be together. Lol. Kidding. They are so equally awesome and funny on camera and off that even though Supernatural went through two years of crap, I still kept watching. I'm also like to mention Mischa Collins here because man, that guy made SPN even more awesome than it already is, and him and these two guys' chemistry are just… fanfreakintastic!
2. Chris Hemsworth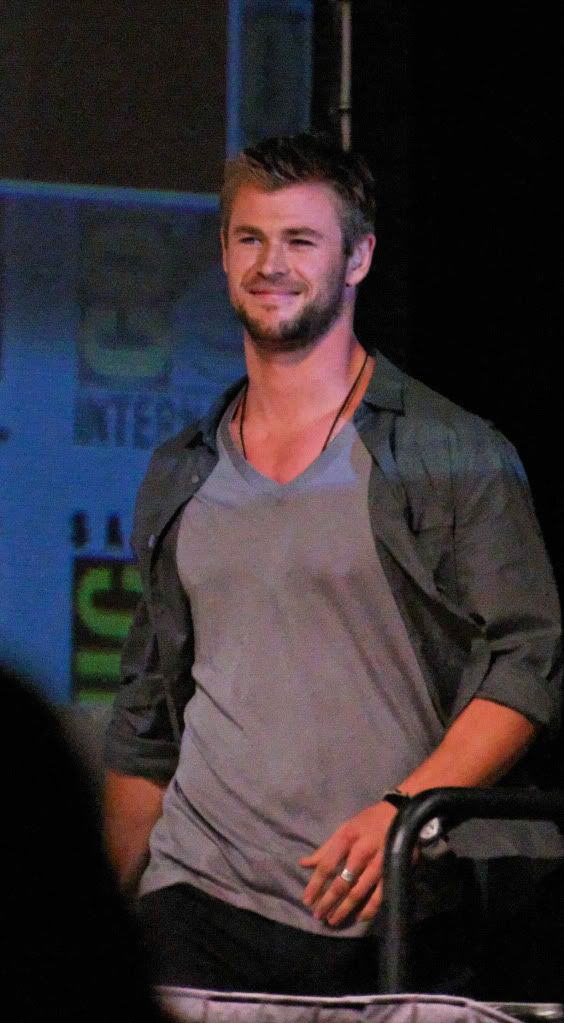 He only had a few minutes of screen time in the new Star Trek movie but that's all it took for me to notice him. Then he became Thor!!! The movie wasn't awesome but man, it was worth the money because of him. He did Thor's cockiness justice. His Australian accent is also so very sexy. Really, hotness overload. Sorry, I don't really know a lot about this guy. But he just looks so freakin' manly and laid back and his eyes are beautiful! Oh, he's playing the huntsman in the upcoming Snow White flick, which stars Kristen Stewart as the titular character. I am giving Kristen the benefit of the doubt and will go watch this movie. I wanna believe that she has more talent than just being Bella.
1. Darren Criss
I know that some of my friends who're reading this are all going WTF?!?!?!?! Yeah. Well, as I said, you can't help who you like. LOL! Darren's #1 this year because he kinda dominated my celeb-crush-0-meter all year. Unlike some of the guys on the list whom I just kind of "obsessed" over for a couple of months and then that's that, Darren was consistently adorable and amazing. How? Well, he was able to get me to keep watching Glee! I actually stopped watching that show after a couple of episodes into season 2 because it got tedious and blah. Then early 2011, I saw an episode with Darren in it and BAM! Watching til the day he ceases being on the show. Also, he's Harry freakin' Potter! Hahaha! And he's weird, in a good way. He's extremely energetic, he forgets lyrics to his songs, he dances like he's epileptic, and wears hot pink shades. Really, if it were any other guy with these qualities, I'd be more inclined to punch him in the face. But Darren is Darren. Some hate his overly happy disposition but I think it's adorable. He's out there but at the same time he's a private guy. He loves his family AND Disney movies. Only a guy who's totally comfortable with his masculinity would admit that. Heck, I don't even admit that I like some Disney movies (well now you know). I just think that it'd be so much fun to have a friend like him, like everyday would be an adventure. His nice voice and beautiful smile doesn't hurt either.
Special Mentions:
Damien McGinty
This guy's singing voice is just FREAKING AMAZING. I chanced upon a rerun of the Glee Project one lazy night and saw him. I never intended to watch that show but Damien singing just caught my attention. His voice is just so smooth and deep and lovely to listen to. His Irish accent is a plus to his innate cuteness too.
Dean Geyer
He plays Mark the soldier in Terra Nova. Oh and apparently, he's a rockstar. He won a major singing competition in Australia (Australian Idol, I think?). I know almost nothing about him other than that he has beautiful eyes. But he looks good as a soldier, and I love his pairing with the lead guy's teenage girl. They look so cute! Can't wait what this guy can do.
Zac Efron
I can't believe that I'd have this guy on my list, even in the special mentions section. But his performance in New Year's Eve got him here. Zac has grown so much out of his HSM-ness. He now actually looks like a man. In short, he got so much hotter. His and Michelle Pfieffer's little story was, for me, the thing that didn't make that movie suck.
Phil and James Younghusband
Some may say that these Pinoy football stars are overrated. I don't know what to say because I know nothing about football. Maybe they are, maybe they're not, but they are definitely cute. And for sure they also are very fit since they're football stars! It's also worth mentioning that Phil scored the only goal in the Philippine Azkals vs. LA Galaxy friendly game early this month, so that has to count for something.
Xian Lim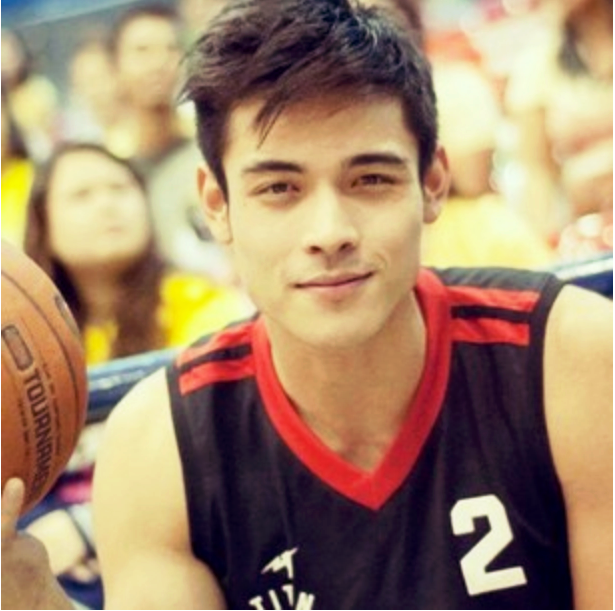 He's a local actor. I don't really watch local TV, but I sometimes hang out at my parents' room and they watch local soap operas. Xian happens to star in one. I also don't have crushes on local celebrities but he's just really cute!!! He does seem like an a-hole though. I mean, I don't know him at all but he gives off that vibe. Acting skills? Still has a ginormous room for improvement. But I did mention this is a shallow list. ;)